Description
Cautions
Supplement Facts
Servings
Description
-Supports Glucose and Lipid Levels Already Within the Normal Range* -Optimal Berberine Absorption and GI Tolerability How it Works: Berberine is a natural constituent of herbs such as goldenseal, Oregon grape, and barberry. Clinical studies have demonstrated that berberine helps to support already normal glucose and lipid metabolism.* Berberine is, however, known for its limited bioavailability; therefore, this product includes caprate (C10, a medium chain triglyceride) to promote optimal absorption and maintenance of gastrointestinal comfort during berberine supplementation.* *These statements have not been evaluated by the Food and Drug Administration. This product is not intended to diagnose, treat, cure, or prevent any disease.
Cautions
Keep this and all medicines out of reach of children. Do not use if you are pregnant, may become pregnant, or are breastfeeding. This product may cause mild gastrointestinal discomfort. If you are taking medications (especially anti-diabetes medications, CYP3A4 substrates such as cyclosporine, CYP2D6 substrates, or CYP2C9 substrates such as dextromethorphan) or have a medical condition, consult your healthcare practitioner prior to use Store in a cool dry place.
Supplement Facts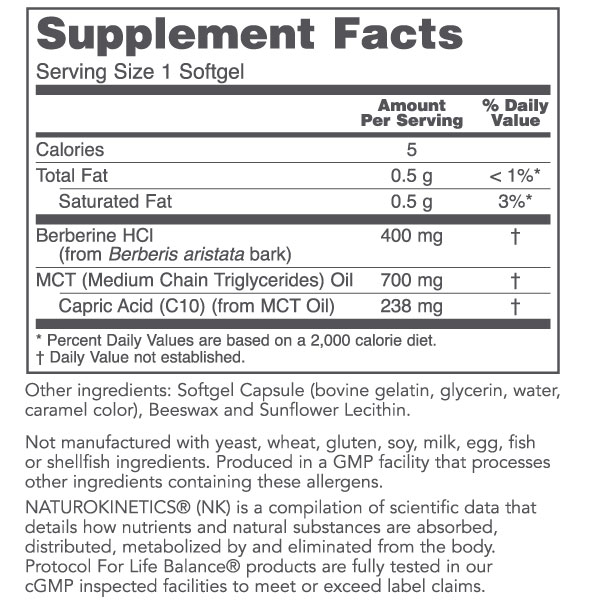 Serving Size:
1 softgel
Directions:
Take 1 softgel 3 times daily with food, or as directed by your healthcare practitioner.
Dosage:
Servings per Container: 90